LANCO wants to send you to a Sandals Resort for a romantic getaway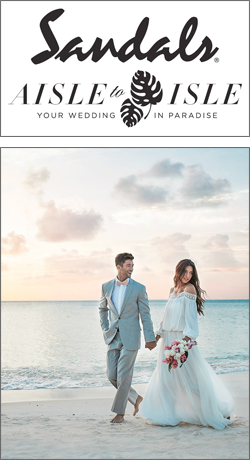 In celebration of LANCO's new album "Hallelujah Nights", available now, LANCO wants to give you and the one who was "Born To Love You" a chance to win a romantic stay at Sandals Resorts! One lucky winner and a guest will win an exclusive Sandal's Resorts package that includes round trip airfare and a 6 night luxury included stay at a Sandals Resorts of your choice. Love is all you need, keep listening for a chance to win.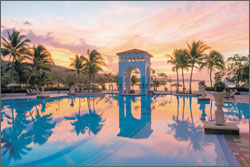 Contest Rules
How to enter: Listen to Go Country 105 from Monday, April 16, 2018 beginning at 6:00am PST through Sunday April 29, 2018 at 5:00pm PST. Listeners will be invited to call in by the announcer or a recorded prompt at designated times over the course of the two (2) week promotion. One (1) winner will be selected on each occasion to win one (1) digital download or CD of the new LANCO album and will be entered into the drawing for a grand prize trip for two (2) people to a Sandals Resort property from one of the following locations listed below as selected by the grand prize winner. Trip includes seven day/ six night accommodations along with roundtrip airfare for two (2) from Los Angeles to the selected destination. One (1) grand prize winner will be randomly selected at the conclusion of the contest from all qualifying winners to win the trip.
Description of prize: Seventy-six (76) qualifying prizes of the latest LANCO digital album or CD. Value: $15. One (1) grand prize winner to be awarded of a trip for two (2) to a Sandals Resort for a seven day/six night trip to any one of the following sixteen Sandals Resorts:
1) Sandals Inn - Montego Bay, Jamaica,
2) Sandals Montego Bay, Montego Bay, Jamaica
3) Sandals Royal Caribbean Resort and Private Island - Montego Bay, Jamaica
4) Sandals Negril Beach Resort and Spa - Negril, Jamaica
5) Sandals Ochi Beach Resort - Ocho Rios, Jamaica
6) Sandals Royal Plantation - Ocho Rios, Jamaica
7) Sandals South Coast - Westmoreland, Jamaica
8) Sandals Grande St. Lucian Spa and Beach Resort - Gros-Islet, Saint Lucia
9) Sandals Halcyon Beach St. Lucia - Castries, Saint Lucia
10) Sandals Regency La Toc Golf Resort and Spa - Castries, Saint Lucia
11) Sandals Grande Antigua Resort and Spa - St. John's, Antigua
12) Sandals Royal Bahamian Spa Resort and Offshore Island - Nassau, Bahamas
13) Sandals Emerald Bay Golf Tennis and Spa Resort - Exuma, Bahamas
14) Sandals LaSource Grenada Resort and Spa - St. George's, Grenada
15) Sandals Barbados - St. Lawrence Gap, Barbados
16) Sandals Royal Barbados - St. Lawrence Gap, Barbados
Grand prize winner will receive two (2) roundtrip coach airline tickets, valid to/from Los Angeles to the chosen resort's designated airport. The grand prize at Sandals Resorts will include one (1) room double occupancy, all meals, unlimited premium brand beverages, daily and nightly entertainment, all land and water sports including scuba diving for certified divers, snorkeling, wi-fi in all rooms and public area, gratuities, and Sandals transfers to and from the resort designated airport. Telephone calls, Red Lane Spa treatments and services, specialty dining, tours and excursions, interisland transportation, SCUBA certification courses, island departure taxes and purchased made at the Sandals Specialty Shops are not included. The grand prize must be redeemed for travel and used by Sunday April 29, 2019. The grand prize is subject to space availability and selected blackout dates. Reservations will not be confirmed until 30 days prior to the selected travel date. Winner and guest must be 21 years and older. Sandals Resorts is an adults-only destination exclusively for couples. Sandals Resorts reserves the right to relocate any confirmed prizewinner from their resort of choice to an alternate resort within the Resorts due to unforeseen circumstances or force majeure, at no additional cost to the grand prize winner, based upon availability of space for the secured travel dates.
Grand prize value: Approximately $8,500
Go Country 105 is not responsible for any other expenses, including ground transportation, meals, taxes, fees, etc. Go Country 105 reserves the right to change the dates of this contest and or dates of the trip, or provide a substitute grand prize equal in value. Prize is non-transferable and must be used on the exact dates specified above unless changed by Go Country 105. Trip is for two (2) people: one (1) winner and one (1) guest. NO EXCEPTIONS. Once distributed, misplaced, lost or stolen tickets to any scheduled event cannot be replaced. During the course of the trip, if any event is canceled or postponed be by act of God or the result of war, riot, sovereign conduct, or the act or conduct of any person or entity not party to the trip, then Go Country 105 shall be excused from any and all obligations pertaining to the canceled or postponed trip event. This trip is rated G for General Audiences. Disorderly behavior and/or illegal conduct may result in revocation of trip winner and their guests' accommodations, and participation in scheduled trip events.
Each Trip Participant must individually execute a release & waiver forms, releasing Go Country 105, and its owners, employees, trip personnel, representatives, agents, directors, officers, successors and/or assigns from any and all claims or liability including but not limited to such liability arising from any acts or omissions resulting in injury to body or property of contest winners while they are participating in the trip including while in transit to and from the destination. Each trip participant must also sign a 1099 form and return to Go Country 105.
Grand prize may not be sold, redeemed for cash, traded, transferred, or rescheduled to dates other than as set forth above.
Selection of grand prize winner: Wednesday May 2, 2018, Go Country 105 will randomly select the grand prize winner from all qualified entries. Grand prize winner will be contacted directly by the Go Country 105 promotions department.
Additional qualifications: Listener cannot have won a previous Mt. Wilson FM Broadcasters, Inc. contest in the previous sixty (60) calendar days from the day of entry. Winner and winner's guest must be 21 years or older. Winner must confirm acceptance either by phone or e-mail of the prize and provide full names, date of birth, and address to Go Country 105 within five (5) business days of being contacted by Go Country 105. In the event that information is not provided or in the event that the prize is not confirmed within the allotted time, the winner's prize will be voided and no substitute prize will be awarded. Winner and guest must have a valid and current passport to attend the trip. In the event that a travel visa is required, winner and guest must arrange the travel visa along with any costs associated with it. Go Country 105 reserves the right to cancel this promotion at any time. Go Country 105 reserves the right to substitute a prize of equal value.
All other
Go Country 105 contest rules
apply.
keyword: lanco